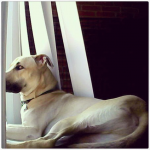 Hehe I thought the title was funny. Dad watches the moving picture thing on the wall and there is some human on TV that always says "Winter is coming".. I don't get it. Whatever. Nymeria and I are enjoying the cooler weather. We now have full run of the loft during the day and most times at night. Except on the weekend nights.. Because… We ate a bottle of Tylenol at night and dad thinks we only get crazy on weekend nights… Somehow he always knows when we are being silly.
Dad went on vacation a little bit ago and I got to spend 15 days at camp! It was SOOO much fun. I slept for two days after I came home! Nymeria went to play with Seth and Stacy so I missed her and we had many snuggles when we came home.
Dad got some kind thing that chases us around the loft while he is at work. He says it helps keep the "flor?" klean? I don't know what that means but it likes to run around and make these funny noises when it bumps into things. One time it bumped into Nym and she jumped way up n the air and started barking at it. It sort of beep-barked back at her.
Nym is doing really good and has gained weight. She really wants to write an entry here but dad only allows us a little bit of computer time and she types sooooo slow and says really weird stuff. She started trying to write an entry, I put it below so you can see.
I am plotting secretly to lock Ghost in the closet by the rabbits so I can eat all his food. He is only half German and so not nearly as smart as I am. I like rabbits. They are fun. Shiney! Oooh what was that, so shiny, must lick it. Lick Lick Lick
See what I mean? Weird-O!